Are you a beginner Twitter blogger who's a desperate to learn everything they can about the audience and figure out what they should post to attract attention to their products or services?
Well, a chance to export Twitter followers is highly needed in this case, but today this social media doesn't give their users a possibility to transfer the data about the subs into a CSV or an Excel file for further comfortable analysis. However, there are still several hacks you can use to bypass the restrictions of the official app.
If you have only around 100 subs to analyze, you can do it for free — for that you'd need to use Chrome Extension (for example, Scraper) that allows you to copy and paste multiple identical values at a time.
For that you'd still need to scroll down to the very beginning of your followers list, but that's easier than gathering the data using api or trying to find a specific software for that.
After you copy and paste everything you'd have a spreadsheet ready (you can do it in Google sheet or whatever format you find convenient, there are no limitations).
But what is the best way to export competitors' followers? Well, for that you'd need to spend money as there is no chance to do it natively on Twitter or for free.
However, there are lots of different programs and websites that allow you to collect information about anybody's account on Twitter, plus you get to choose which metrics you want to consider. Make sure that you're reading the descriptions of the app attentively so as not to lose sight of anything important.
How to export Twitter followers 
When you want to export a list of subs from Twitter, you will almost certainly have to turn to paid programs. Today Twitter allows you to save only your tweets, answers to them and a list of subscriptions as an account archive, but no more than that.
A lot more metrics are required for a competent account analysis, and today only paid websites and programs can provide you with this.
So if you need high-quality promotion and the opportunity to get to know your audience properly, we recommend that you do not skimp and work with a promo company that can transfer all your (or not your) subs into a document of any convenient format.
(Good news is lots of such websites and programs have free trials that might give you exactly what you want without having to spend money!)
Export Twitter followers to Excel
Unfortunately, there is no way to export Twitter followers to Excel for free — sadly enough, today this social media doesn't give a chance to natively transfer all the subs into one document of any format.
To do so you have to spend some money on the third party service that would gather all that data for you.  Pros: you don't have to spend time on scrolling through all the followers and trying to collect the information yourself.
You can learn about your own subscribers and about the subscribers of other people; cons: this is not free; you have to check the reviews from the previous clients to make sure that you are not sending your money to scammers.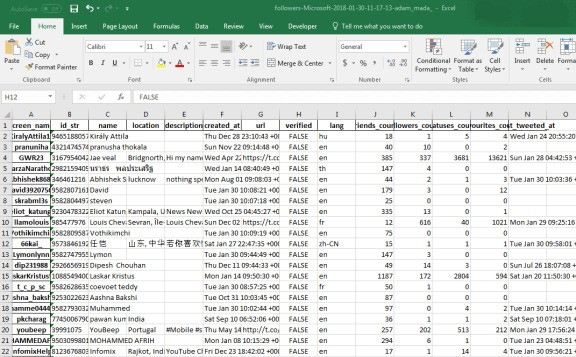 Now answer the question: are you trying to upload another person's subscribers to a file in order to "steal" them later? Yes, this technique works well when you need to study the niche in which you are starting an activity, but it rarely works in cases when you need to properly increase the audience.
People are rarely interested in something that someone's trying to impose on them: and mutual following is now perceived exactly like this. So if you were planning to start subscribing to thousands of people, stop and think: why not take a simpler path?
You can buy Twitter followers now and forget about all your problems. The main thing is to make sure that you buy high-quality subs who are really people and not just useless fakes, inactives or bots.
FAQ
Is there a way to export Twitter followers?
Yes, but for that you'd need to use a third party service or program. Even if you want to collect the data of about 100 subs and you want to do it for free, you'd still need to use a Google Chrome extension to prevent yourself from excessive scrolling and copying URLs (check out the body of the article to figure out how).